I recently had a friend show me their Safariland Automatic Locking System (ALS®) holster, and in playing around with it, I decided I really liked the retention release. So I picked up a Safariland 6378 ALS holster to compare to my BLACKHAWK!® CQC® Serpa® holster.

I normally use the Serpa holster for Outside the Waistband (OWB) carry, and have used them for many training, etc. So that is what I'm most familiar with. I really like them, but the release on the ALS is something that I really like.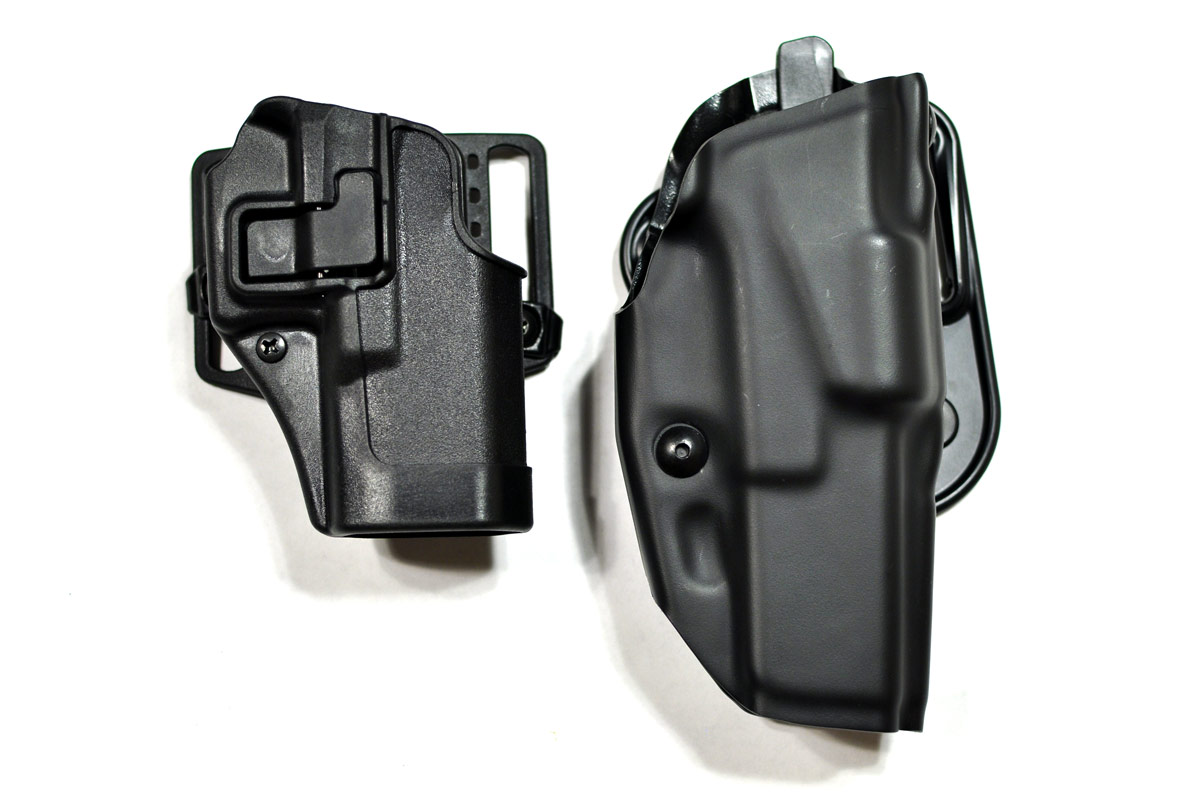 Construction
The Serpa is made of a carbon fiber composite. It's very durable, and takes one hell of a beating; I haven't been able to break one yet. The ALS holster is made of SAFARILAMINATETM, a thermal molded plastic. It feels a lot like Kydex, so I'm expecting the durability and wear to be much the same as Kydex.

The overall build quality of both of the holsters is great. There isn't really any missed finishing or rough edges, etc. They are well made, put together well and are very sturdy.

Before I get into the nuts and bolts of things like retention and all of the specifications, I want to mention a few "fit" related items. First things first, the holsters I'm comparing are not exactly the same, the Serpa is for a Glock 19/23 and the Safariland ALS is for a Glock 17/22. The reason for this is the Serpa, in the Glock 19/23 form factor also works for the Glock 17/22 and is the recommended form factor if you want to be able to run the 4 different models in the holster; the longer barreled guns just stick out the bottom a little bit. To get the same functionality out of the Safariland ALS, it is recommended to use the opposite, the Glock 17/22 holster for the 17/22 and 19/23.

These holsters fit these models quite well, that being said, I generally add grip tape to the slides of my combat pistols for added grip when performing immediate and remedial action drills. This adds material to the sides of my pistols causing the fit, in most holsters, to be a little tight; at least until the grip tape wears down the sides of the holster. So if you have things like grip tape on your pistols, you may run into some fit issues. But generally after a little use, everything wears in and works well.

Immediate action involves quickly applying a possible correction to reduce a stoppage without performing troubleshooting procedures to determine the actual cause.
Remedial action is the continuing effort to determine the cause for a stoppage or malfunction and to try to clear the stoppage once it has been identified.
Retention
The Serpa Auto LockTM system is listed as a Level 2 retention system, but it only has one latch, so it is "technically" a Level 1 retention system. The latch locks into the bottom of trigger guard. This provides a very secure and positive locking effect.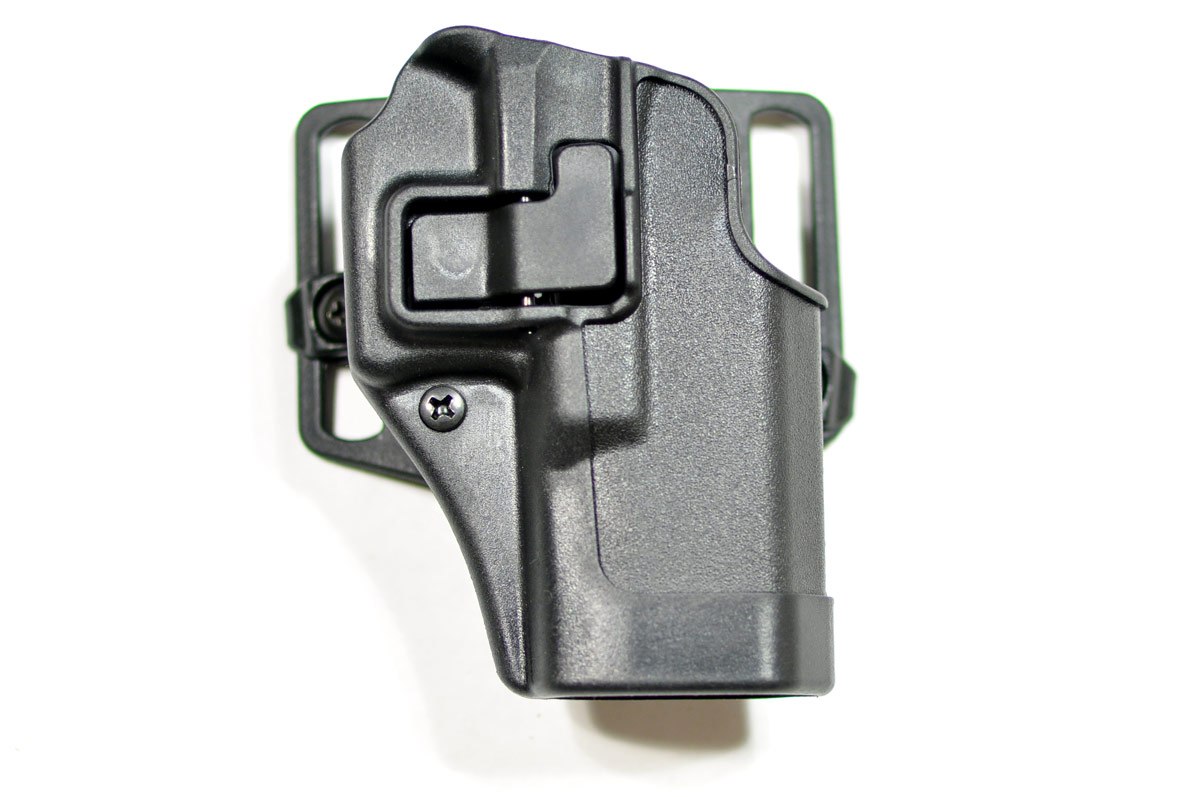 1-1. Serpa CQC – Side Release

The retention on the Serpa, as you can see (1-1), is released using your index (trigger) finger. This is something that a few have identified as being an issue that can cause a negligent discharge caused by the trigger finger slipping onto the trigger and depressing the trigger if excessive pressure is used to release the locking mechanism (eg, Tex Grebner Outdoors). I've used the Serpa for almost a year, and have friends that have used them for many years and no one I personally know has had this issue, but, I have read that some training groups have decided to not allow people to use the holsters because of the issue. The largest issue I've ever had in this direction is not fully interfacing the release before attempting to draw from retention. This causes a lot of upward pressure on the release, so it becomes very difficult to depress and actually release. Most of the time when this happens I have to push pack down, then fully press the release and then continue on with the draw. It's annoying when it happens, that is a fact.

The Safariland ALS is a Level 1 retention system. On the Serpa, where the latch interacts with the trigger guard, the ALS locks into the ejection port. In my mind this seems like it would be a little less of a "secure" location to latch on to, but, the firearm is very firmly retained… Even with a good tug, I haven't been able to break retention. Your mileage may vary on that one, but from what I have seen, both of the retention systems work very well and hold the firearms very securely.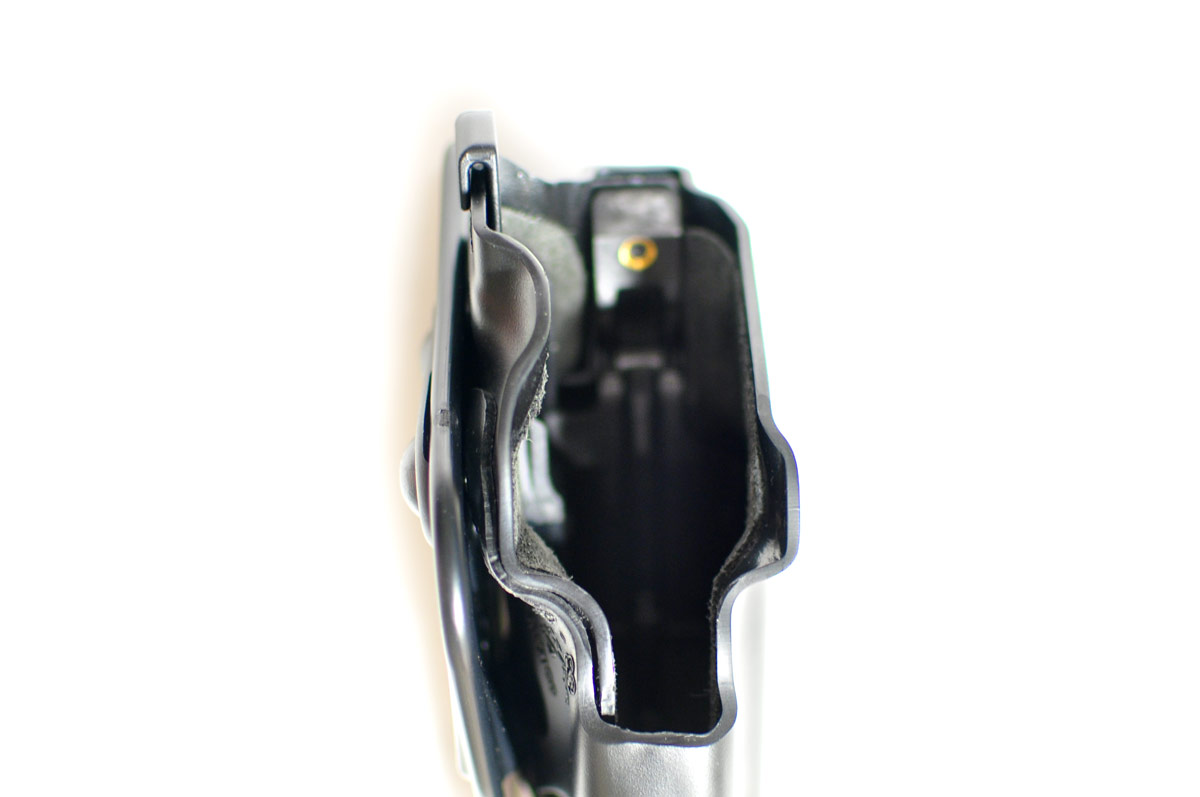 1-2. Safariland ALS – Thumb Release

The retention on the ALS holster, as you can see (1-2), is released using your thumb. Some do not like this as they feel that it interferes with your grip. I do not find this to be the case at all. The release is very natural and easy to interface with. When drawing, it feels almost instinctual. I have yet to fumble a draw with the ALS.

Measurements & Sizes
Measurements for the BLACKHAWK Serpa are taken from a CQC Model 2100067 Glock 19/23 holster and the Safariland ALS is a Model 6387 for the Glock 17/22.
Measurement
BLACKHAWK Serpa®
Safariland ALS®
Weight
3.6 oz
7.2 oz
Width
3.21 in (81.55 mm)
3.346 in (85.00 mm)
Height
4.368 in (110.95 mm)
7.375 in (187.33 mm)
Thickness
1.818 in (46.17 mm)
1.875 in (47.17 mm)
Material Thickness
0.132 in (3.36 mm)
0.090 in (2.29 mm)
Belt Loop Sizes
Adjustable
up to 2.288 in (58.12 mm)
Belts up to 1.598 in (40.60 mm)
can be cut to fit belts up to 1.844 in (46.85 mm)
Width: Measurements taken from the widest part of the actual holster, not the width of the belt attachment.
Height: Measurements taken from the tallest portion of the holster, not including the belt attachment.
Thickness: Measurement taken from a flat area on the holster in an average appearing area. Your measurements may vary.
Belt Loops: Measurements taken from inside loop holes and should reflect the actual width of a belt that would fit through the openings.

As you can probably see from the information above, the ALS holster is doubly as heavy than the Serpa and is larger in almost every aspect. Some of this can be attributed to the fact that the ALS is designed for a larger pistol, but the widths of those pistols are exactly the same. Bottom line, the ALS is just a bigger holster.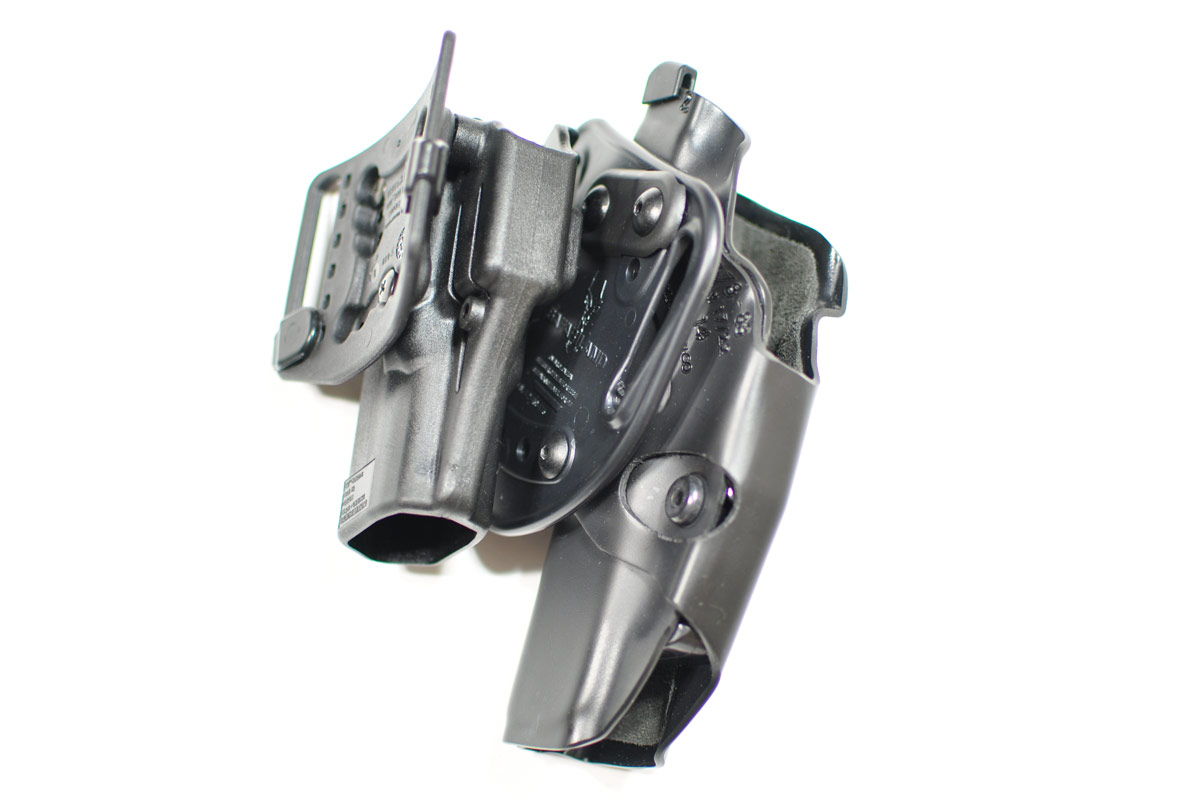 Usage
Because of the larger size of the ALS holster, using it for concealed carry would be difficult. Unless of course you are on the larger side and wear really baggy clothes. Both holsters, for a smaller framed individual would be difficult to conceal (they stick out over 3″ from your waist). I know for my size (5'8″, 160 lbs), it's almost impossible to conceal either of these holsters without a very large jacket. For the smaller framed person, I would definitely urge them towards an inside the waste-band style holster over one of these. Though, if you are going to try to use one of these for concealed carry, the Serpa will have a slightly smaller signature.

These holsters are really more designed around duty or tactical use (when they do not have to be concealed). That is mainly what I use them for and they work very well for that.

Neither of the models come with any drop-leg style attachments, though both brands offer versions that do. The drop-leg holster is generally designed to lower your holster down your leg. This moves it down, away from any gear you may be wearing on a plate carrier or other type of chest harness. This is most common in military and military style roles where that type of equipment is most commonly used. I've used both the Serpa and ALS with a plate carrier and haven't had issues with interference thus far, however this is highly dependent on your specific gear, and how you have it configured. So, make sure to check out what gear you are going to be using and make sure it all works together. You don't want to get geared up and find out you can't actually draw your pistol.

Final Thoughts
I've been a long time user of the BLACKHAWK! Serpa holsters, and like them. They are durable, the retention is good and they are relatively compact. The Serpa that I have has served me very well for a while now. As I mentioned earlier, when up against the shot timer with the Serpa, I occasionally don't fully depress the release and end up fumbling my draw. With the ALS, I haven't had this problem yet. The release seems a little more natural.

Retention release aside, I do like the overall form of the Serpa holster more than the ALS holster. It's a little more compact and quite a bit lighter. But, to me, none of those items is a deal breaker. Whatever lets me get the best draw, and is the most reliable will be what I stick with.

So what am I going to do? I'm switching over to the Safariland ALS for a while. I'll see how some more training goes, but I think I'll be using the ALS for a good while.

Lots of pictures of the holsters in the slideshow below. And make sure to let me know what your favorite holsters are in the comments!