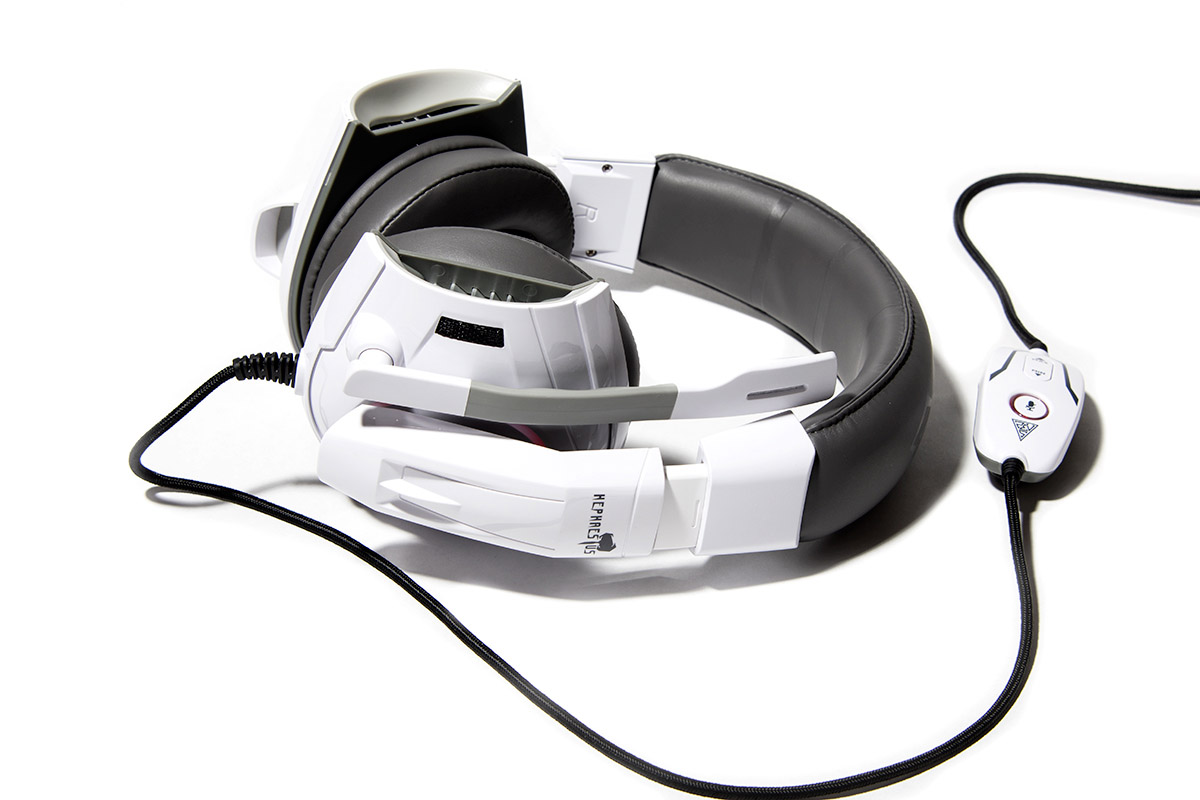 GAMDIAS recently sent me out one of their Hephaestus gaming headsets. This is one of their top of the line headsets, that is rocking a very affordable price tag.
Hephaestus (/hɪˈfiːstəs/, /həˈfɛstəs/ or /hᵻˈfɛstəs/; eight spellings; Ancient Greek: Ἥφαιστος Hēphaistos) is the Greek god of blacksmiths, craftsmen, artisans, sculptors, metals, metallurgy, fire and volcanoes. –
wikipedia.org
The Hephaestus is sporting 7.2 channel audio (there is a "woofer" in each ear) with a reported frequency response range of 20 Hz to 20 kHz, though, my ears could only pick up 20 Hz to 19 kHz test tones. The Hephaestus also provides quite good audio separation between all of the various channels in a 7-speaker surround sound setup.
Audio Quality
As I was saying, the audio reproduction on the Hephaestus headset is pretty clean. I ran the headset through test tones ranging from 10 Hz to 20 kHz. I was able to pick up tones from 20 Hz to 19 kHz. The woofers in the headset are a little flat for things like music or other general audio, but, the headset does a very lively reproduction of audio for game play. First Person Shooter (FPS) games sound pretty darn awesome through this headset, and I'd say game play audio is as good as many headsets that are double the price point.
You are able to easily tell each channel apart when playing games, doing a Dolby audio test, or anything that really supports high end audio. Each channel, left/right front, center, left/right side and left/right back, are all separated nicely when listing to good audio and playing games. You can get decent direction of noises in game play and a pretty immersive experience for movies, etc.
Another thing this headset is quite good at is background noise isolation. The ear cups seal very well and keep most outside distractions at bay. This allows for a quite immersive experience while gaming or even just listening to music and focusing on work.
I've used this headset for everything from conference calls, to games and have been quite happy with the audio in almost every aspect.
For music, I've found having the "Vibration" feature on at least low really helps with low end bass. The Vibration feature responds to frequencies from 20 Hz to 200 Hz, so basically low end bass, just a more gaming centric term. The sound is definitely more geared for games, but it works well for music, movies, podcasts, and conference calls right out of the box. Everything can be adjusted via software, there are presets and a full EQ for customization.
Mic Quality
The microphone on the Hephaestus is nice. It stores up and completely out of the way, it is rather flexible for adjusting the distance from your mouth, and overall it just works well.
The mic runs a little hot by default (it's turned up to 100% by default) and over modulates pretty easily. I had to go into the windows settings and turn it down, somewhere between 40-50% seemed to work the best for me.
To turn down the mic in Windows 10, right click on the speaker icon in the task bar, then select "Recording devices." Then select the recording device you want to adjust, and click on "Properties". Navigate to the Levels tab and then adjust it down.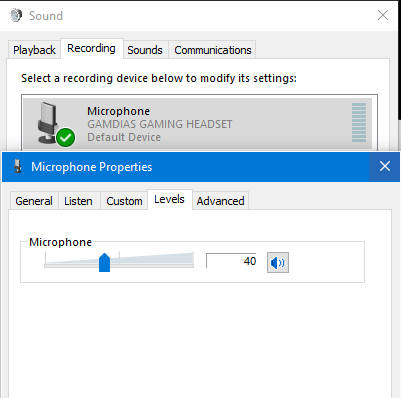 The mic also has some noise, even when on mute. This is generally due to some level of electrical interference. Other mics I have, when on mute generally don't produce and background noise, this could be due to different design, but I figured it was worth noting. It shouldn't be an issue for anything under normal use. But I found that I would see anything from -55 db to around -42 db, again, this is something that you probably wont ever notice.

Another thing to mention about the mic is the mute control. There is a mute button on the inline control box, as well volume adjustments and a switch to control the vibration feature. The mute button is surrounded with a ring light that is blue when on, blue flashing when in use and red when muted. So it's very easy to tell when your mic is on or off.
Comfort
The Hephaestus is a decently comfortable headset. The longest I've worn them for is about 6-hours at a time, and didn't have any real issues or discomfort with them. Initially, the weight of the headset, 14.4 oz (4.6 oz heavier than my old Turtle Beach headset), was a little much, but after a while I've gotten used to them.
The weight is enough to notice. Even that little 4.6 oz increase in weight, resting on your head, you are very aware of. That being said, after about a day of use I was acclimated to the weight and how to position everything so that it was comfortable. Now I barely even notice that I'm wearing them.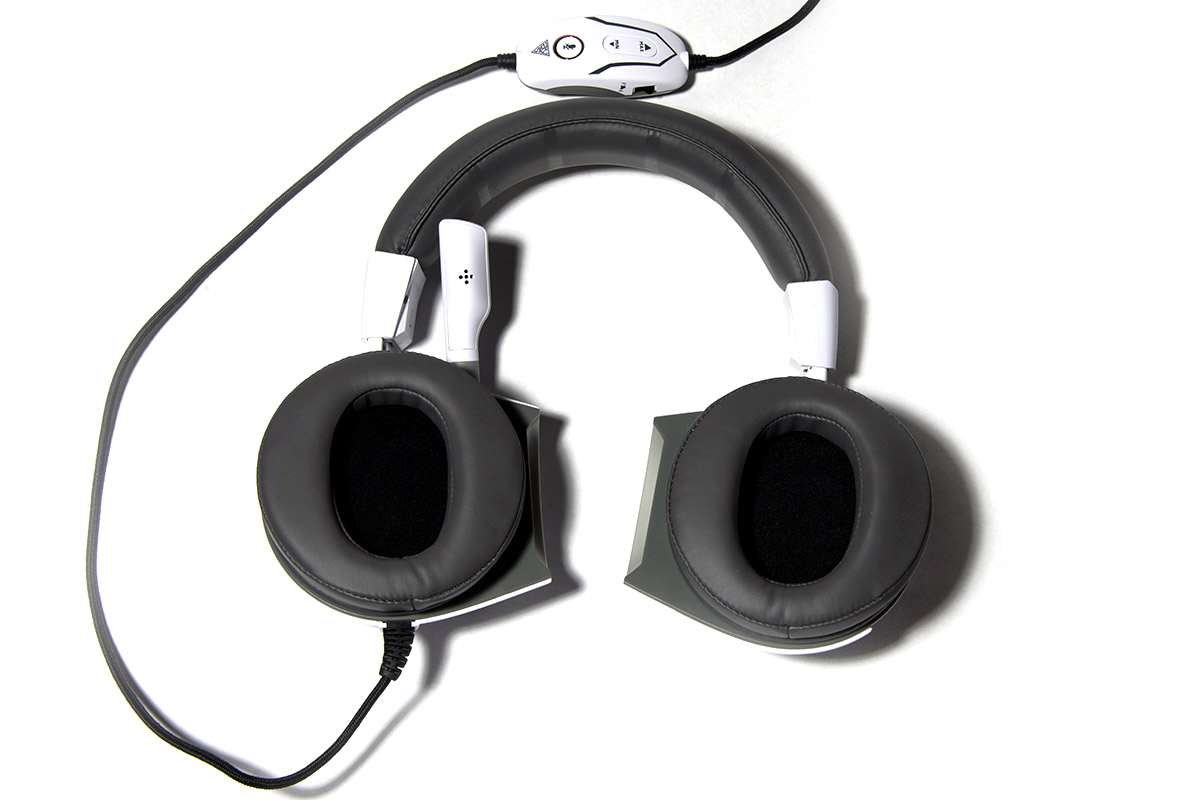 General Look, Feel & Use
These headphones are interesting looking; to me they kind of look like two Millennium Falcons attached to a head band. So they have an interesting style. You will either like it or hate it, and that will be very subjective. So I'll just say that these are very stylized. Some of the style has some functionality though, so don't discount it all. The flat part of the ear pieces are open and expose some heat sinks that help dissipate heat.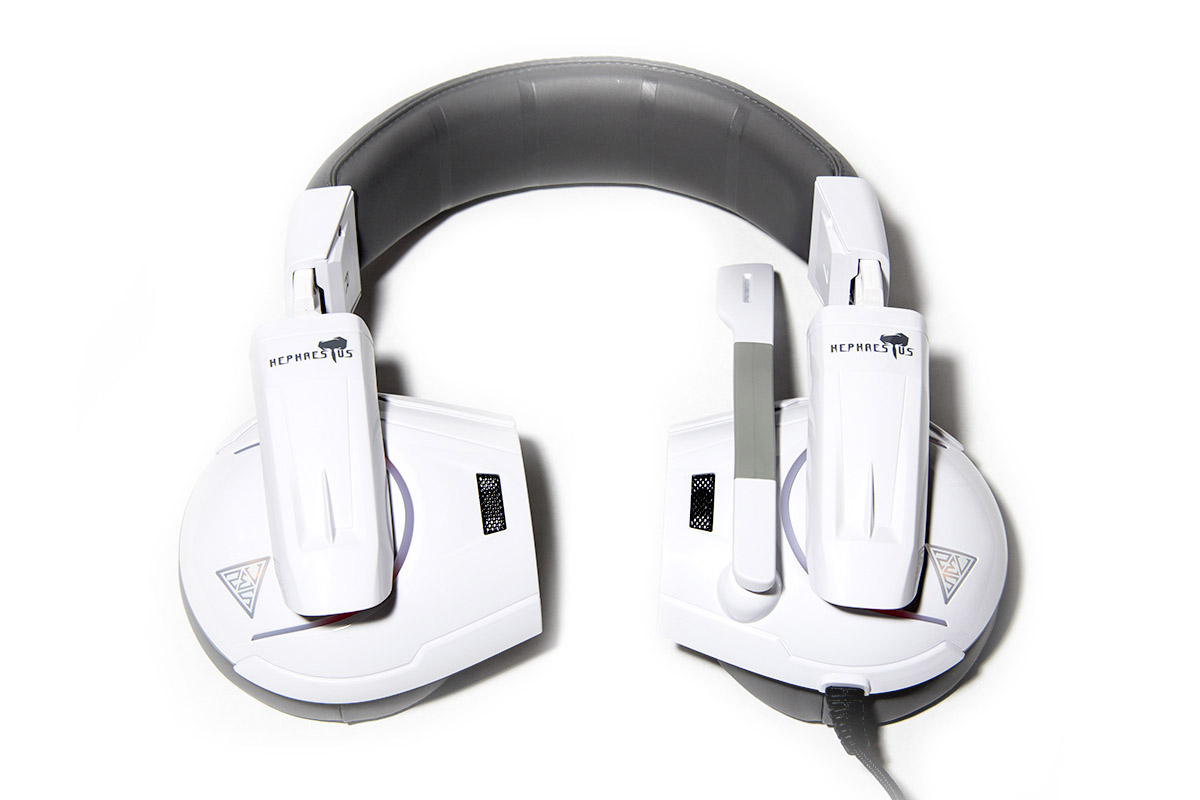 The general construction of the headphones is pretty nice, there isn't anything that feels "cheep" about them, and they seems to be made from very solid and durable parts. The earpieces also swivel backwards and that helps with fit, and storage. Making them flatten out to a pretty small size if you want to stash them in a desk drawer or something along those lines.
The USB cable that is attached is also very nice. It's a braided cord, something that I wish all products used. It's just a nice touch and makes products feel that much nicer and more durable. The cord is also nice and long, measuring in at 2.5m (or a little over 8 ft).
HERA Management Software
Like all of the GAMDIAS products, they are managed via the HERA management software. The headset requires you to install the specific drivers to use the management software (if you don't want to install the drivers, the headset will work fine, you just wont be able to manage things like the EQ, etc. in the software).
Annoyances
I have one annoyance with the Hephaestus; the illumination on the headset stays on pretty much all the time. I haven't found a way to shut it off, even when your computer is asleep, the lights stay on. If you're computer is in another room, not so bad, but if your computer is in your bedroom, be ready to have to unplug the headset every night. Not only is it a little annoying, it's also a waste of power. Not a huge waste, but a waste.
I ran a couple tests, the headset, when not in use pulls about 0.1 amp @ 4.95 volts. That means if i leave it plugged in 24/7 it equates to about $0.05/month, USD, (at current my rate of $0.12/Kwh)… That's not much… but just to have your headset plugged costing you $0.60/year is kind of annoying to know. Maybe I shouldn't have done the math. That one thing aside, I don't really have anything to complain about with this headset. I just like it.
Manufacturer Specifications
Frequency range 20 ~ 20KHz
Sensitivity 117dB + / – 4 dB at 1 kHz
Impedance 32 Ohms
Driver diameter 40mm
Driver magnets NdFeB
Maximum input power 100 mW
Microphone size 6.0 * 5.0mm
Microphone frequency range 100 ~ 10KHz
Microphone sensitivity -46dB + / – 3 dB
Microphone impedance 2.2 K Ohms
Vibration unit driver type Diaphragm Vibration Unit
Vibration unit driver unit size 30mm
Vibration unit frequency range 20 ~ 200Hz
Vibration unit sensitivity 82dB + / – 4 dB
Vibration unit impedance 8 Ohms
Vibration unit maximum input power 1 W
Cable Length 2.5m
Plug type Gold-plated USB plug
Dimension(LxWxH) 232 x 100 x 216 mm
Application UI GAMDIAS EOS
Model No. GHS2000

Final Thoughts

Since I've been using the GAMDIAS Hephaestus headset, I've really been enjoying them. They are a little heavy, and if they were lighter, I would like them that much more. But in the end, the weight hasn't been a deal breaker for me. They also do not get too warm with long term wear. They have been durable, comfortable and overall a pleasure to use for hours on end, for everything from gaming to conference calls.

If you're in the market for a good headset, check the GAMDIAS Hephaestus headset out.