I recently killed another pair of headphones, marking the 6th pair in the past 2-3 years, so when I jumped on Amazon to take a look for some new ones, I decided to buy low priced since everything from $6 – $40 has died on me. $40 isn't what I would call expensive for audio anything, but for in-ear headphones for the gym and occasionally listening to a podcast with, it gets expensive to have to replace them every 3 to 6 months.
The main issue I have is that one speaker on headphones often stops working, going through a few old pairs that don't work any more that I had yet to throw away (was I going to try and fix them? I don't know.) it seemed to always be the side with the microphone on it. I'm assuming that the gym is what is causing this, getting sweat into the microphone.
So time to buy something without a microphone! Since Audio-Technica has a pretty good track record, as far as I'm concerned, I decided to give a low priced pair of their in-ear headphones a try, the Core Bass In-Ear Headphones (ATH-COR150BK).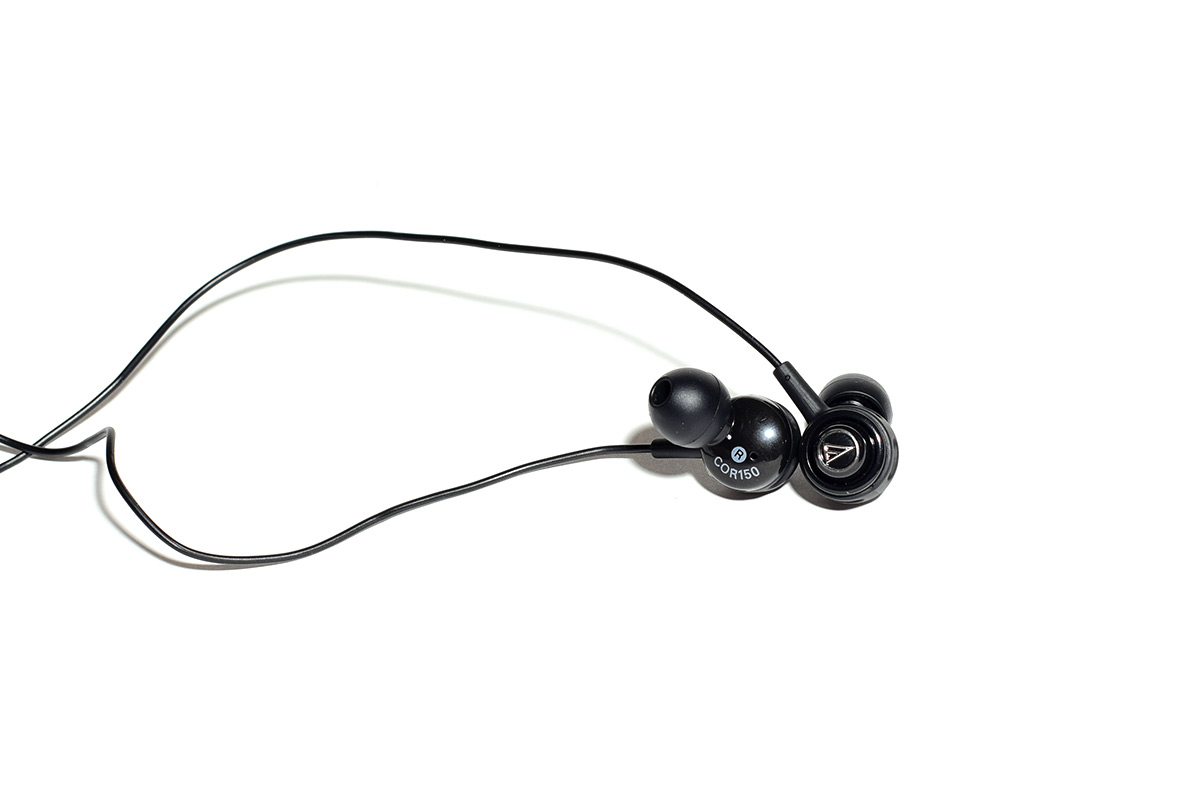 The headphones come with the headphones, obviously, a round expanding "storage case" (cord-wrap), snap-on/off ear hangers, and S/M/L ear tips. The storage case is this round "cord-wrap" device, that expands and contracts… It's a pain in the ass. I still use the case, but instead of wrapping the cord around it, I just bunch of the cord and clamp the case down on the stuff. It's much easier to get the headphones out of the case.
Sound
The sound produced by the Core Bass headphones is good, it's not great, but it is good. They sound like $20 headphones, but that being said, I'm happy with the sound. There isn't any intense bass or clarity, but it's all well rounded. So these headphones will work OK for all music types.
I'm no major audiophile, but they sound good and clear. They wont knock your socks off, but they aren't miserable.
The headphones are also pretty darn good at blocking out outside noise. Once they are firmly placed in your ears, outside noise is difficult at best to hear, so you can enjoy the music or whatever you're listening to.
Durability
So far the durability has been good. I've used them for about two weeks in the gym and living in my backpack when I'm not using them, and everything still works. My only real concern about durability is the cable the headphones are connected with. It's a tiny cable, 1.37 mm (0.054 in) per wire, and it feel flimsy. If you pinch the cable in something, it's going to cut it, no doubt about it. If they upgraded the cable to something a little more durable, these would be a real steal for the price, I'd even pay a couple bucks more for the upgrade (maybe some of the other models that cost more have the thicker cables, I didn't look into it too much).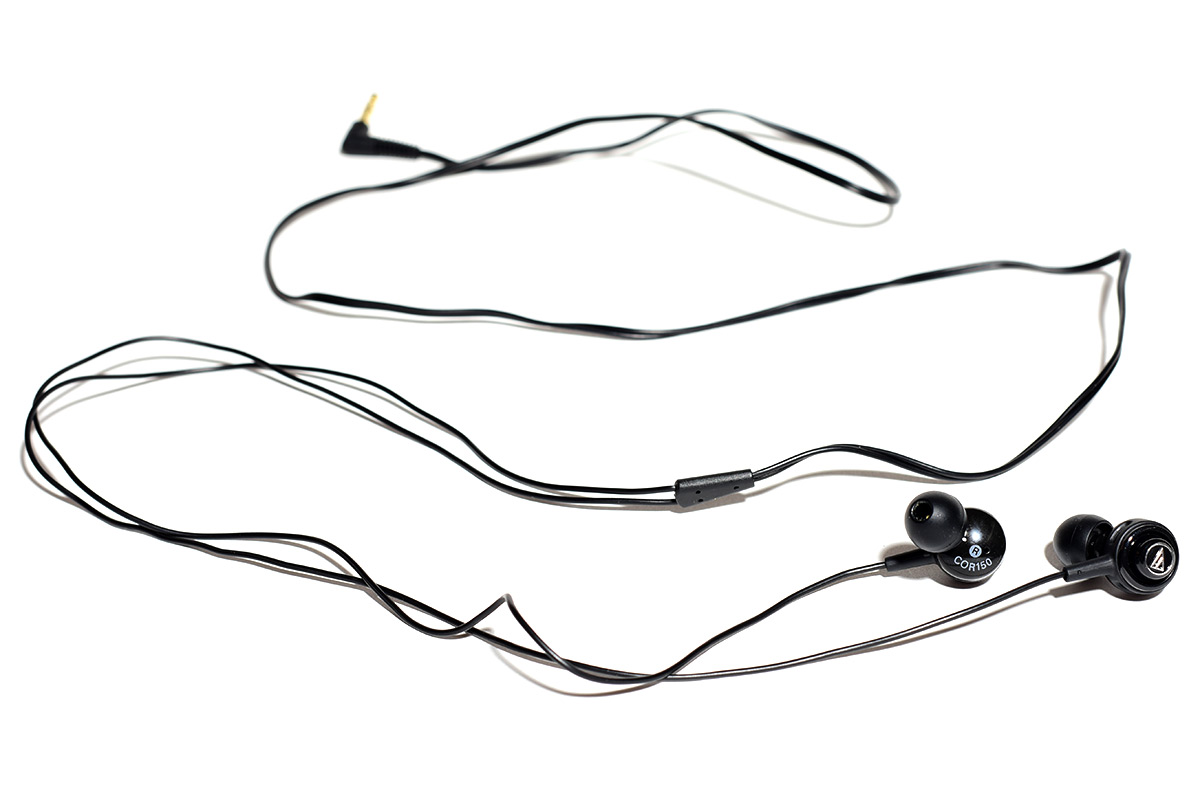 Final Thoughts
These are good headphones for the price, you do get what you're paying for in one respect or another, but they work. They don't sound bad and have been working well… for the price I don't think you could ask for anything more than that, right?
They may not be the best buy out there, but they are worth checking out to see if they will work for you. They are working for me, and I'm happy with them. If and when they die, I'll post an update. But I expect to get a fairly good bit of use out of them.
---
Manufacturer's Specs
Full, textured bass with immersive sound and excellent detail resolution
Easy-traveling audio performance with cord-wrap included
Use with or without included snap-on, snap-off oval hangers for two comfort-fit wearing options
In-ear (canal-style) headphones
Offered in eight vibrant colors: black (ATH-COR150BK); white (ATH-COR150WH); lime green (ATH-COR150LG); blue (ATH-COR150BL); orange (ATH-COR150OR); red (ATH-COR150RD); purple (ATH-COR150PL); and pink (ATH-COR150PK)
Two-year Audio-Technica manufacturer's warranty
Includes cord wrap; snap-on, snap-off oval hangers; and 3 sizes (S/M/L) silicone eartips
Driver Diameter: 8.5 mm
Frequency Response: 20 – 25,000 Hz
Maximum Input Power; 20 mW
Sensitivity: 103 dB/mW
Impedance: 16 ohms
Weight: 4.2 g
Cable: 1.2 m Y-type
Connector: 3.5 mm (1/8″) mini-stereo
Accessories Included: Cord wrap, ear hangers, ear tips (S/M/L)