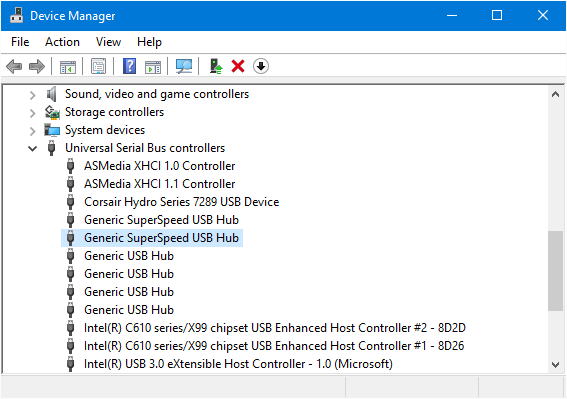 Recently I noticed that my system had a USB hub that was reporting an error (Code 43). There were a couple USB ports on the back of my system that were not working and that was about it… Nothing else was really "wrong" with the system. So I contacted ASUS support…
The System is a new build, for the full details you can checkout the article here, but for this issue, all you really need to know is that it's using an Asus X99 DELUXE motherboard, where this specific issue takes place.
The problem shows up in device manager as a USB hub with an issue (the yellow exclamation point on the device in Device Manger). When viewing the device properties you will see the error message, "Windows has stopped this device because it has reported problems. (Code 43)", followed by "The USB hub failed to reset."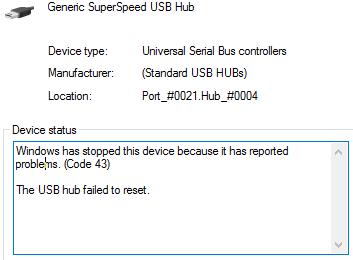 The first thing to do is make sure that you have the latest drivers installed. If you're not sure if you have the latest drivers installed, I definitely recommend going to the manufacturers website and downloading updated drivers. If you know you are running the latest, do a double check, and then move on.
Also, you have to try uninstalling the device via device manager. That involves right clicking on the errored device, then selecting uninstall. Then right clicking on the Universal Serial Bus Controllers group and selecting scan for hardware changes. If the device comes back with no errors, and stays that way, congrats, you're done. If it doesn't, Asus suggested doing a CMOS reset.
The CMOS reset requires opening up the case, and pressing the CMOS Clear button on the X99 DELUXE. That being said, every motherboard is different, some require removing the power plug, and CMOS battery, and adjusting a CMOS clear jumper. Others just have the button… You should reference the manual for your motherboard for the correct CMOS reset procedure.
For me, after doing the CMOS reset, everything started working correctly. The error went away, and everything is working correctly again. I'm not sure what caused the issue, and neither was Asus.
If none of that works for you, I would suggest calling Asus support at 1-812-282-2787 and speaking with Component Support about your options. If your board is under warranty, I would suggest doing an RMA and getting your board fixed.
The CMOS reset worked for me in the end, and after a couple days, it's still working fine. So I think there may have been some issue with some bad USB device I may have connected. But the CMOS reset worked. So if you are having some issues with your USB devices, I'd run down the list…
Clean your computer (dust, dirt, other junk)
Update and verify that you have the latest drivers
Uninstall the device via Device Manager and reboot
Clear the CMOS and try again
If none of that works, call your motherboard manufacturer and see about getting an RMA to return or replace your motherboard.
Hope that helps someone out!