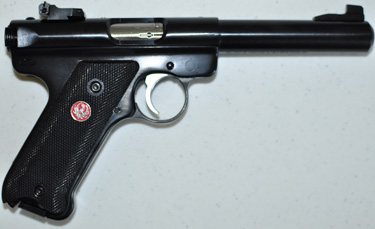 Specifications
| | |
| --- | --- |
| Cat. #: | MKIII512 |
| Mod. #: | 10101 |
| Material: | Alloy Steel |
| Finish: | Blued |
| Barrel: | Target |
| Barrel Length: | 5.50″ |
| Overall Length: | 9.75″ |
| Weight: | 42.00 oz |
| Caliber: | .22 LR |
| Capacity: | 10 |
| Grips: | Checkered |
| Front Sight: | Fixed |
| Rear Sight: | Adjustable |
| Height: | 5.50″ |
| Width: | 1.20″ |
| Twist: | 1:16″ RH |
| Grooves: | 6 |
Unboxing
The Ruger Mark III comes in a decent plastic case, it's not the most durable and doesn't have any real padding to speak of, but it is definitely functional (especially over the old cardboard boxes of many years ago).
In the box you get (in California):
1x Ruger Mark III Pistol
2x 10rnd Magazines
2x Safety Set Screw Keys
1x Action Lock
1x Users Manual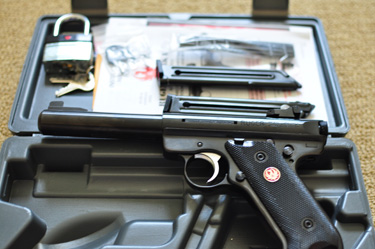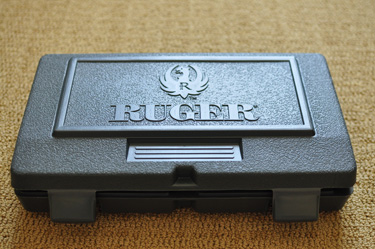 General
After putting a few rounds though this pistol, its proven to be nothing less than exceptional. It's very well balanced, extremely accurate, has a great trigger pull (right from the factory) and is very comfortable to hold. I would say it is probably the ultimate plinking and practice pistol. Any accuracy issues are totally on you… This thing is a nail driver.
With all of the above being said, I must note that the complete disassembly of this gun is more laborious then most guns. To compare it to something else, it's about doubly as complex as taking apart a standard 1911. There is a lot of inserting and removing magazines, positions of internal pins, etc. It really just takes practice, but for a novice or someone that has never taken apart a gun before, expect to spend more than a couple minutes getting everything apart and back together.
Overall, I would definitely recommend this gun. It's a great overall pistol, even if you have many other handguns, it's still a great gun and a lot of fun to shoot.