In my search for body armor I gathered a lot of information (Body Armor Information) and I wanted to have a couple options. So I ordered some basic IIIA soft plates for my plate carrier (TopBodyArmor.com Soft Plates) and I ordered a custom made Point Blank Vision concealable vest.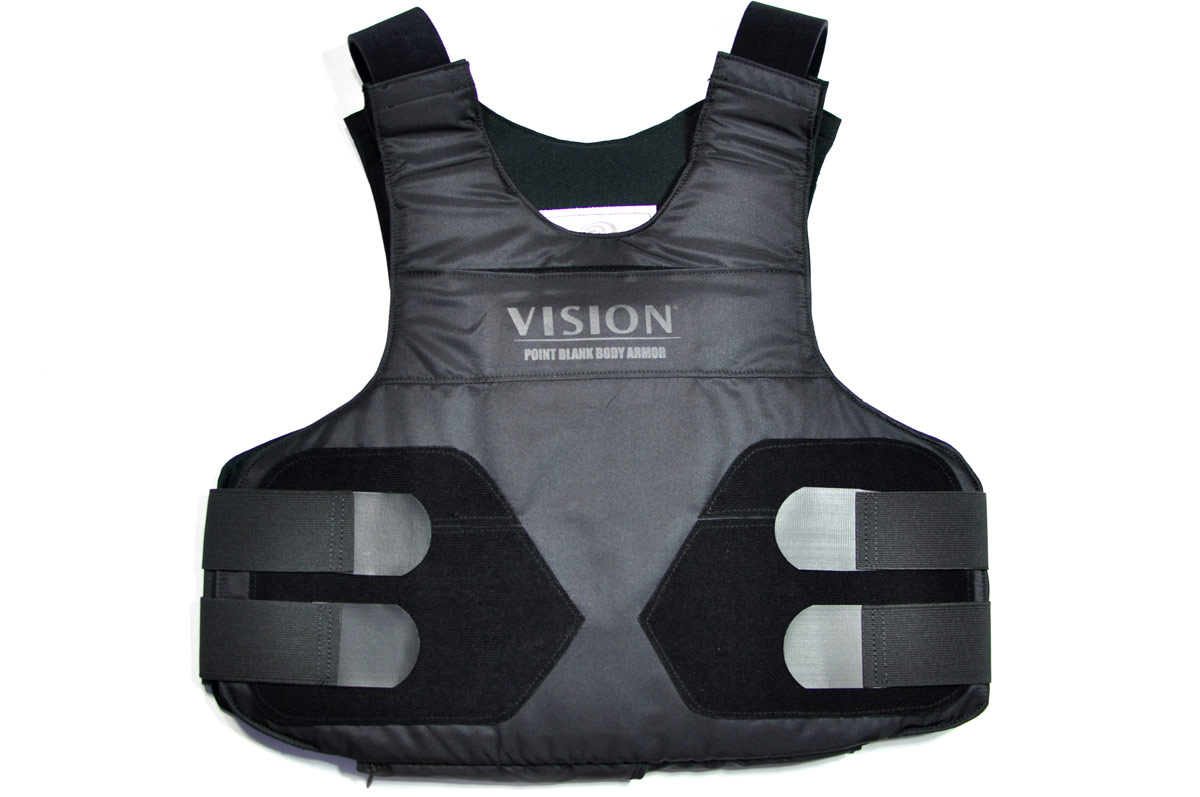 Because the Point Blank vest is custom made, it has taken about a month to get. For each vest, measurements for the intended wearer are taken, and then they are built to those specifications… But I'll get more into the details of that shortly.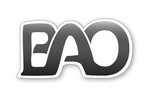 First things first, the reason I chose to get a Point Blank vest over others in the first place… I did a little research and liked the basic features, and had heard good things about them from friends of mine in law enforcement. Also, I found a great sale going on from Body Armor Outlet (BAO).

I sent BAO an e-mail and got a call back from a salesman (Adam) who talked me through everything about the vest and the promotions they had going on. He did a great job of getting me all of the details and all of the information required to place the order. Throughout the whole process Adam stayed in touch; calling to give me status updates as frequently as he had new information. I would definitely recommend them, they do a top notch job and I will definitely order from them again.

OK, now back to the details on the armor…

Features
The Vision carrier comes with a lot of features and has a couple optional items. The optional features are Thorshield (Electroshock weapon protection) and shirt tails. Other than that, everything else was included.

Self Suspending Ballistic SystemTM (SSBS) provides optimal protective coverage
Outlast® Adaptive Comfort® Technology body side fabric to help keep you stay cool and comfortable
ThorshieldTM electroshock weapon protection
AegisTM antimicrobial protective properties resists growth of bacteria, mold and mildew
Durable Water Repellent (DWR) micro-fiber outershell
Removable 2″ waist straps provide 8-point adjustability – optional 4″ straps available
Removable 4″ internal cummerbund stabilizes rear ballistic panel and helps prevent riding up when sitting
Trauma insert pockets in the front and back accommodate 5″ x 8″ or 8″ x 10″ SPEED or Blade Plates
Split shirt tail construction or optional no tail
Additional protection – 5″ x 8″ Soft Trauma Insert
VISION® concealable ballistic panels fit into Crossover Carriers (Maverick, Gresham, Endeavor, TAC and R20-D)

As you can see this carrier is fully loaded!

Since most of the features are pretty self explanatory, I'm not going to go into too much detail, but one thing that I did want to go over is ThorShield. It's something I didn't know too much about when I started this off, but have done some reading, and it is interesting.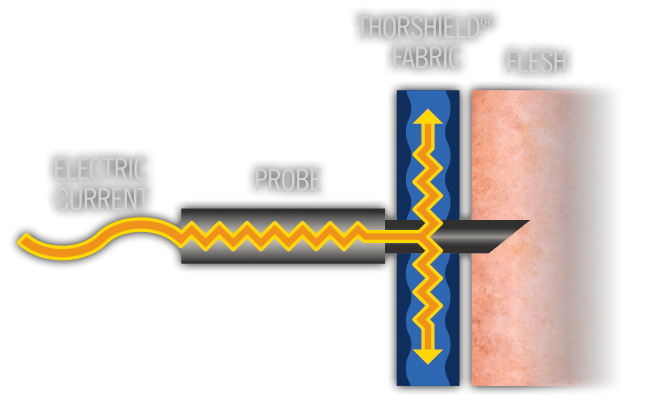 "ThorShield works by providing a highly conductive specialized layer of fabric ensuring the electrical current conducts through the fabric versus your body, and can be integrated into body armor and all garments such as jackets, gloves or uniforms."
-thorshield.com

ThorShield is basically a highly conductive layer added to the carrier. This causes the electricity from an electroshock weapon to be dissipated into the material rather than into you.

If you want to learn more about ThorShield, check out thorshield.com.

The carriers are also available in 4 colors, Black, Navy, Tan and White. Depending on how you will use the vest, different colors may work better for you. For example, if you work undercover or "plain clothes" and need to wear a vest, the white may be a good option because it will help blend in with a white undershirt.

Ordering & Measurements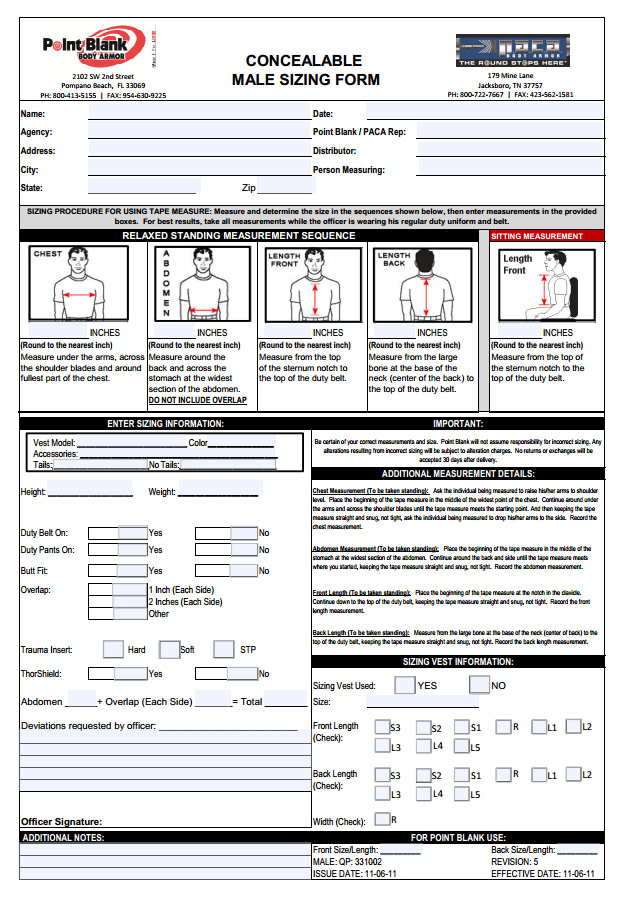 Here are links to the sizing and ordering paperwork for Men and Women.

The basic measurements are as follows:
Chest
Abdomen
Front Length
Back Length
Front Length – Sitting
All sizes should be rounded to the nearest inch.

The best way to take these measurements is with a flexible sewing tape measure, if you do not have one, you can use a pice of string and a regular tape measure. You shouldn't use a normal, semi-rigid tape measure to take the measurements because it will bend and is not very accurate for measuring around shapes and you want to make sure your numbers are accurate.

If your numbers are too far off, the vest will not fit well and can impede your ability to wear the vest effectively. You don't want a large unprotected area or to get choked when you sit down.

Specifications
| Specification | Detail |
| --- | --- |
| Chest Size | 43 in (1092.2 mm) |
| Waist Size | 32 in (812.8 mm) |
| Standing Length | 13 in (330.2 mm) |
| Sitting Length | 12 in (304.8 mm) |
| Back | 17 in (431.8 mm) |
| Side Overlap | 1 in (25.4 mm) |
| Protection Level | NIJ .06 – IIIA |
| Armor Thickness | 0.383 in (9.72 mm) |
| Total Thickness* | 0.438 in (11.14 mm) |
| Total Weight | 4 lb 8 oz (4.5 lbs, 2.04 kg) |
| Carrier Weight** | 1 lb 1 oz (0.48 kg) |
* – Measured as the general thickness of the vest, not on the VELCRO that adds some thickness around the midsection.
** – Weight includes the carrier, VELCRO straps, and cummerbund.

Remember that the weight and size of the vest will vary depending on your body size. Everything is custom made based on your measurements.

Armor Removal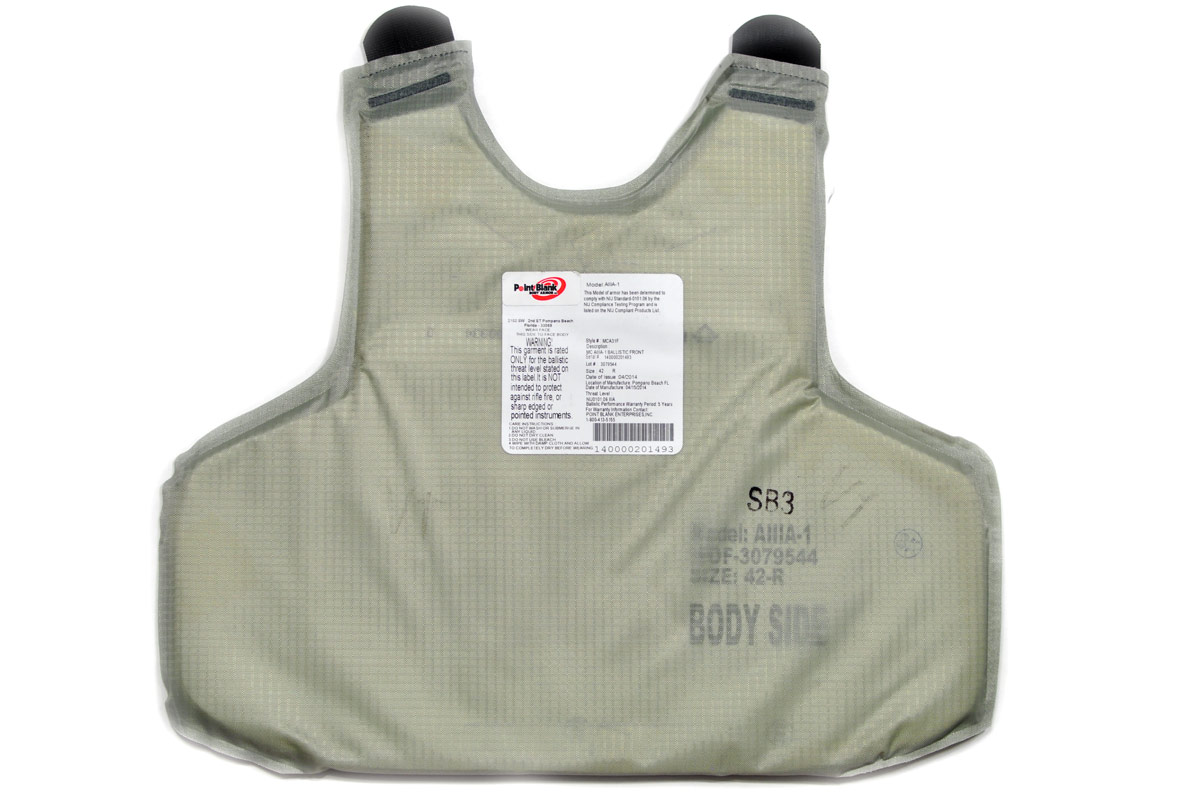 Because I ordered the armor with a 1in side overlap, the armor is a PAIN to remove the carrier. Once the armor is a little more broken in and a little less rigid, it should get easier to remove; but to get the armor removed for a couple photos, it took some muscle. I would imagine the vests with a 2in side overlap are even more difficult.

What I found to work the best was to unzip the removal flap fully, remove the shoulder straps, then to bend the vest in the middle into an arch, then pull in one side enough to slip out of the bottom of the carrier. This required pushing and pulling the carrier around the armor pretty forcefully. Once one side was out, I was able to repeat the process for the other side.

Once each of the side overlap areas were out of the carrier, the rest slid right out without any issue.

Just remember you want to try to "fold" the armor as little as possible, you don't want to create any creases. But you have to muscle it around a bit to get it out of the carrier until it's broken in.

To get the armor back in, I just followed the same process in reverse. It's just as difficult to get back into the carrier as it is to remove it. But once you get where you need to bend and push down, it's not too bad. Just give your self some extra time to go through the process as needed.

Storage
As with many things, improper storage can cause premature wear or damage. To properly store your vest, you should lay it flat and keep it under normal environmental conditions. You should not store it someplace with excessive heat, cold or moisture, but a standard closet or in a locker should suffice.

If storing the vest flat is not an option, hanging it from a hanger is the next best option. You should never leave the vest sitting on an edge. This can cause curling at the edges and permanent creases in your armor. These things could cause a failure in the vest.

Care & Maintenance
Because the armor is removable from the outer shell (carrier), before doing any cleaning, the armor should be removed. You should also remove any VELCRO attachments. Then the carrier should be dry cleaned, or if that is not an option, you can wash them using the "durable press" cycle at medium water temperature (about 120°F). You should also use low bubble detergent. Once washed, you should air dry or dry using low temperature settings.

The armor should be wiped down with a damp sponge or cloth. DO NOT IMMERSE IN LIQUID. Then allow to air dry before returning them to the carrier.

Wearing the Vest
Since I've gotten the vest I've been wearing it around, trying to break it in a bit, etc.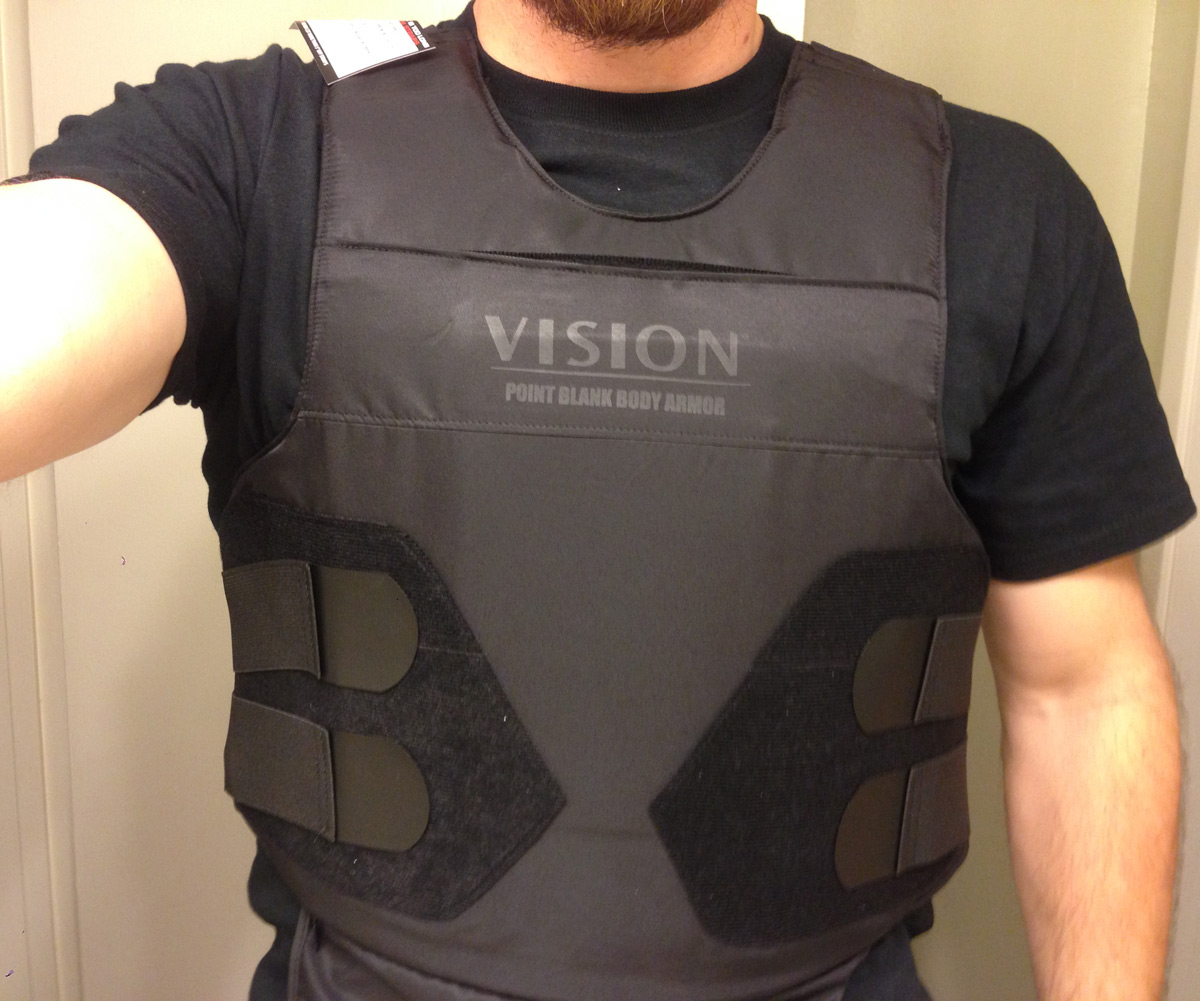 Overall the vest is very comfortable, in fact, I ended up sitting in front of the computer working with it on for about 45 minutes and pretty much completely forgot I had it on.

All of the size dimensions that were taken seem to be pretty spot on for me, I'm able to sit, bend and move around and not get choked out by the top of the vest, and it doesn't get in the way or inhibit my mobility at all.

The vest has an internal cummerbund that connects to the back of the vest and wraps around you, this keeps the back of the vest from riding up when sitting. It very securely holds the vest down and around you. Though, it does get a little extra warm in that area (it's elastic wrapped tight around you).

I've worn the vest in some varying temperature scenarios, none extremely hot, but ranging between 65°F and 80°F. The vest seems to breath quite well, as far as a vest can. And I didn't feel excessively hot. But as it goes, wearing a vest and moving around, you are going to get warm. This vest does a really good job, but it is still another layer that traps heat.

One thing I did find is that with the vest on, I'm not able to carry inside the waistband (IWB) with my Glock 36 and Theis Holster. The bottom of the vest constantly hits the back of the gun and gets caught up. This is to be expected though. An IWB holster that sits a little further off of your body would probably work. Or a simple flat style outside the waistband (OWB) or side holster would work fine though.

So if you plan to carry IWB with any vest, you may need to give that a try before buying anything.

Other than that, the vest is extremely comfortable, easy to wear, and doesn't ride up.

Final Thoughts
So far, this is a really great vest; it's comfortable and only going and more comfortable as it breaks in, it's not restricting, and it's not too heavy. I'm very happy with the purchase, and I feel that it was a good buy. Though, I would only recommend spending the kind of money these vests costs to someone that actually needs it or has money to burn. It's very pricey, but if it's something that you need for your job and/or safety, the Point Blank Vision is a great vest and well worth the money.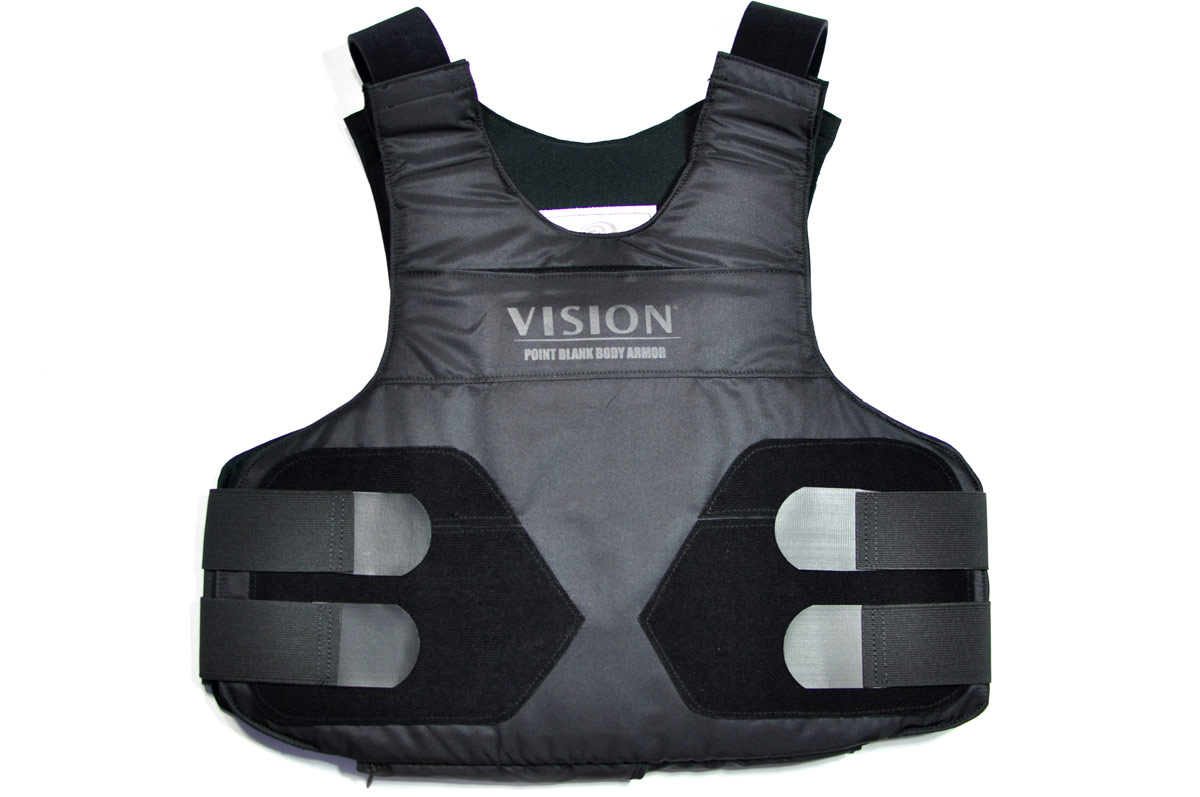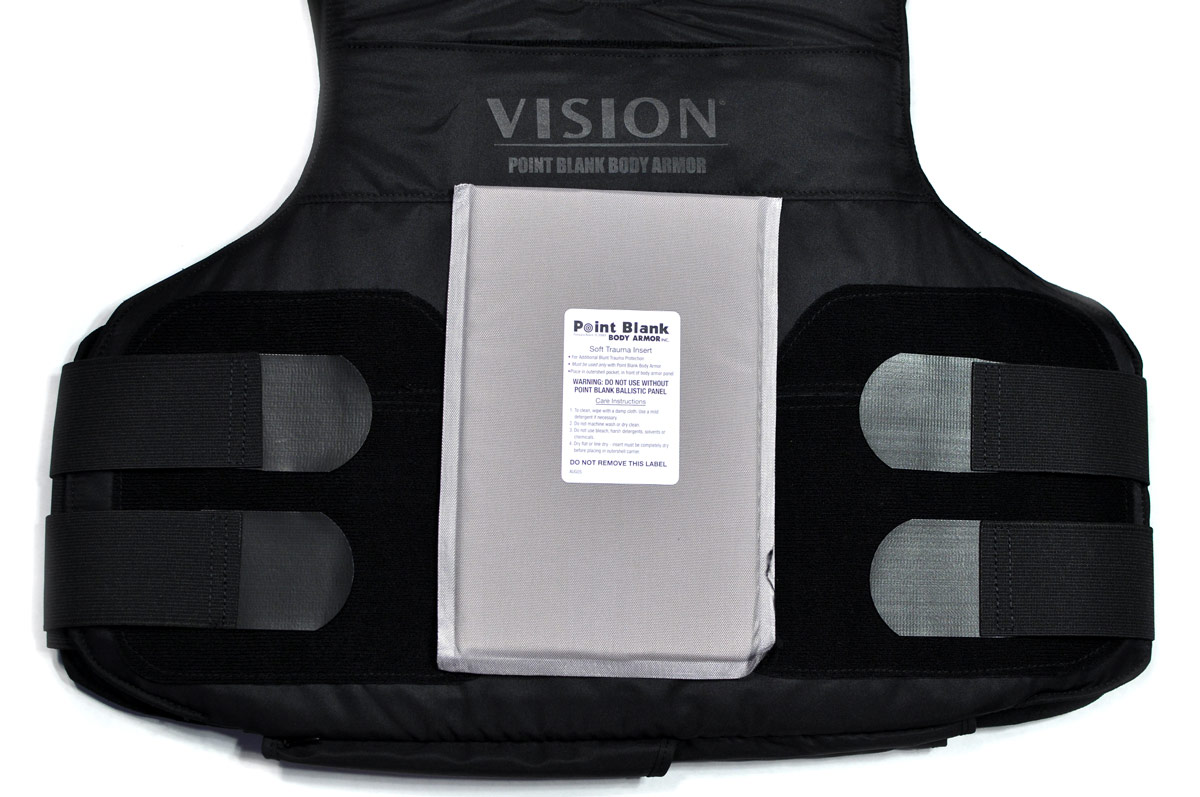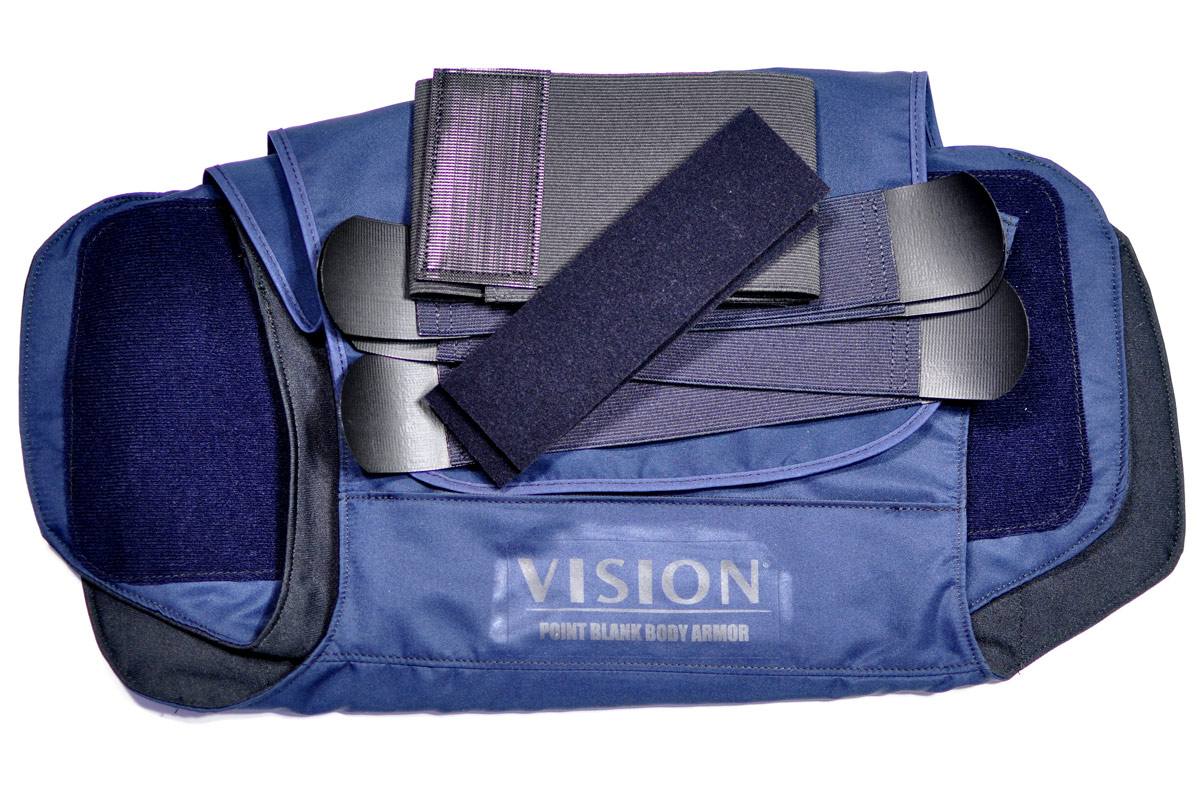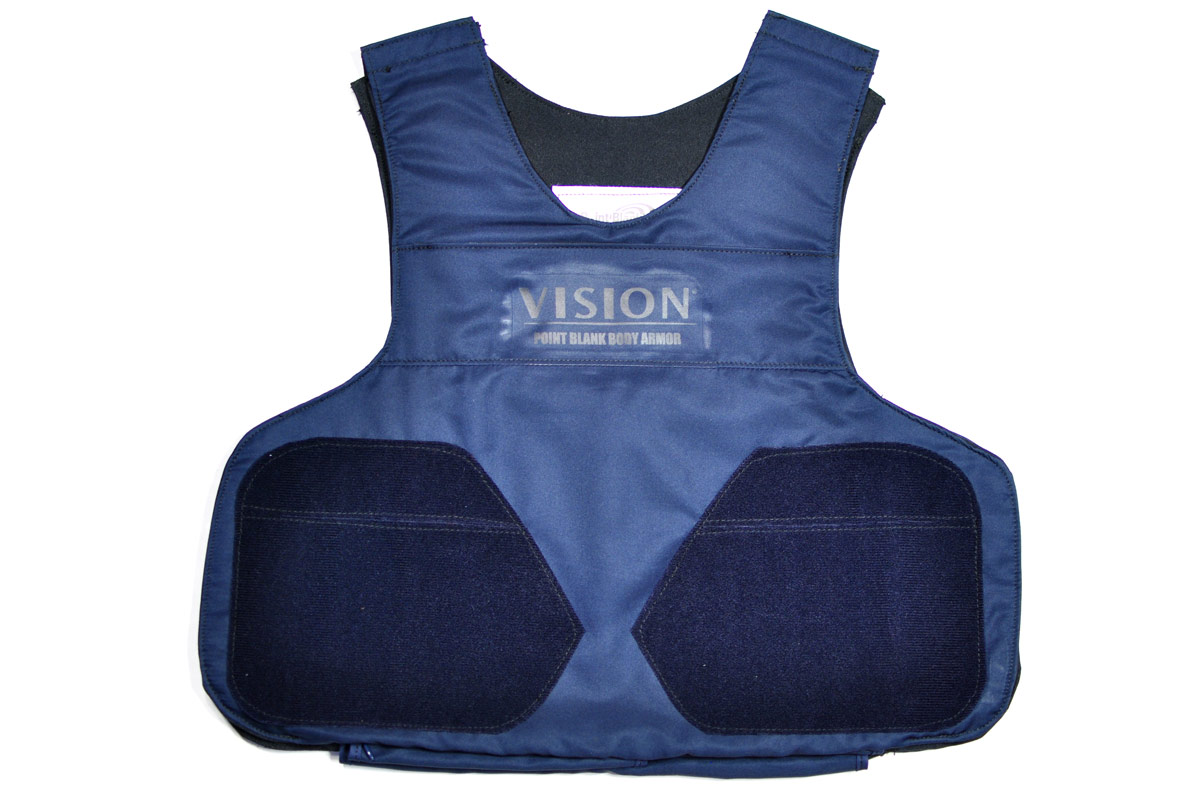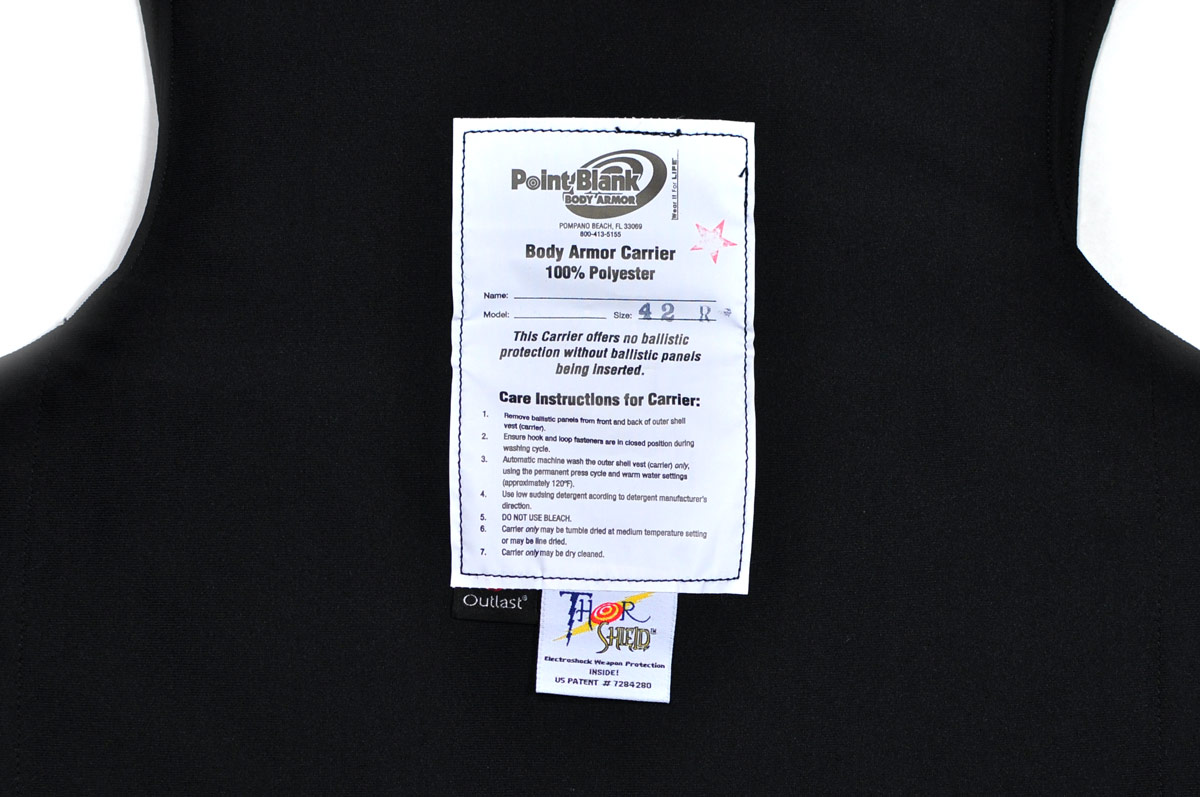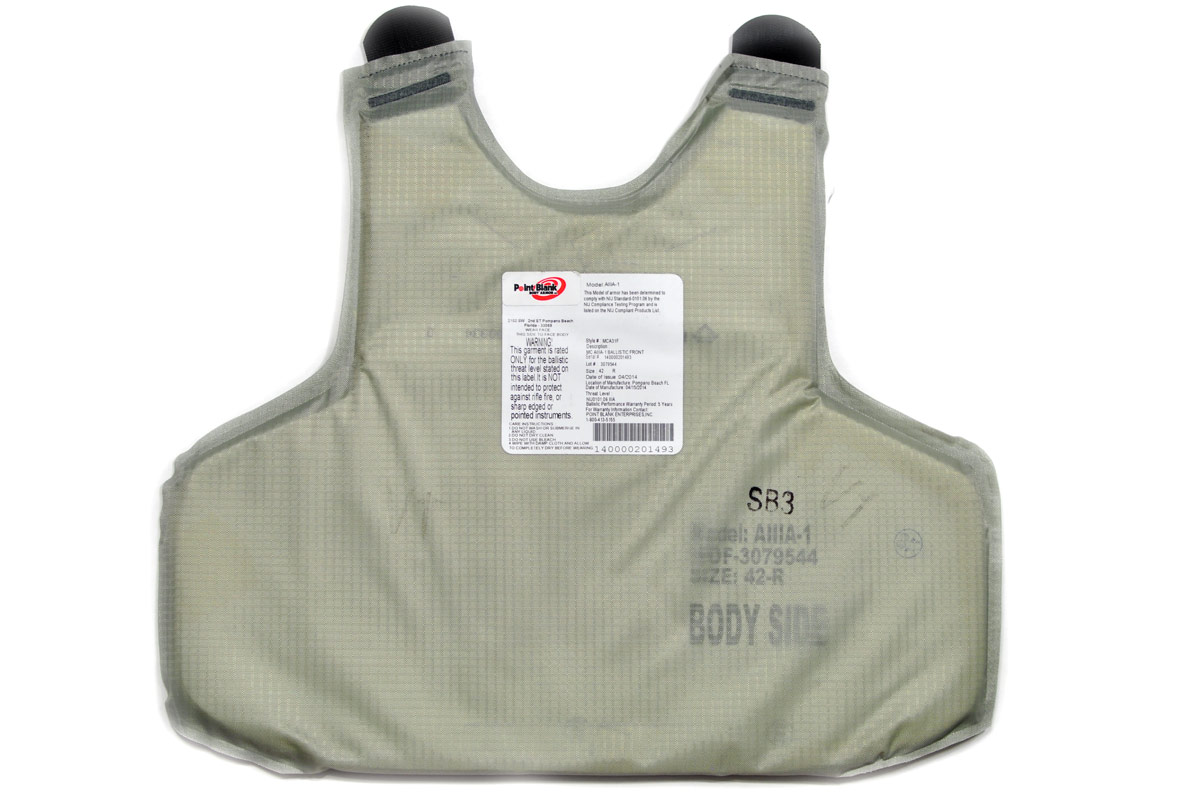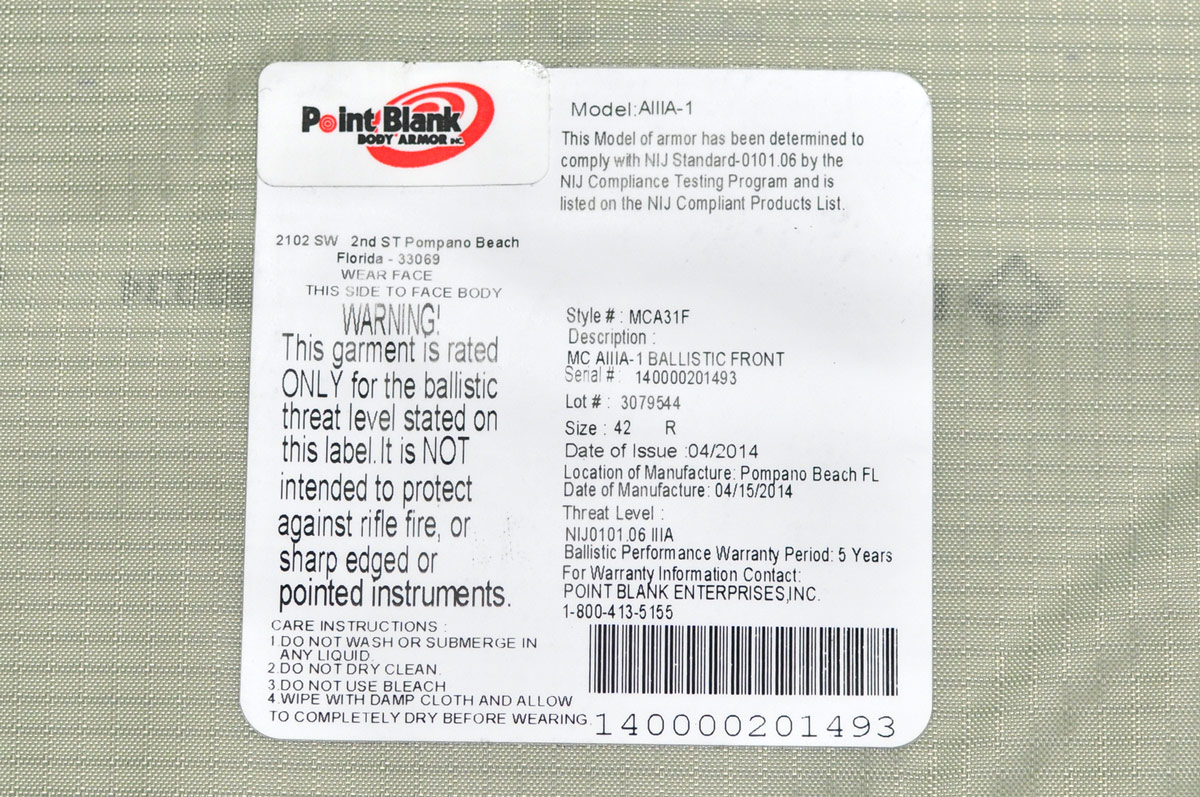 ---
This post has also been posted on The Truth About Guns. Check out their site for tons of firearms and firearm industry news and information.