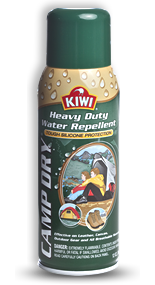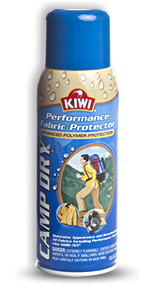 I needed to treat a couple things for a trip, and figured I'd buy both, the Kiwi Heavy Duty Water Repellent and the Kiwi Performance Fabric Protector and see how they worked…
I wanted to see what would work the best for coating various things, so far, both have worked amazingly well on all of the things I've applied either of the products to.
The heavy duty spray definitely seams to "coat" better, and is easier to see the initial spray because of the silicone. But it "can" change the color of garments a little, because of the silicone. Silicone "may impart a slightly darker, richer tone" to light colored garments. From my tests, it definitely does change the color of lighter colored stuff, but not by a lot. It makes things darker, and in many cases, I think it makes things look better. But, you may not think the same, so make sure to test on the inside or someplace you wont notice if you don't like it.
Because of the possible color change, and silicone, there is also the Performance Fabric Protector, something that is more designed for performance garments including Gore-Tex. The Performance protector doesn't cause any discoloration as far as I can tell, it also seems to dry a little faster.
Both the heavy duty and performance protector say they work on breathable fabrics, but the Performance Fabric Protector is definitely more applicable for high-end fabrics (the Gore-Tex, Dri1, or any of the various forms of DWR treated sporting/outdoor garments). I would recommend the Heavy Duty product for things like tents, furniture covers, BBQ Covers, hunting gear, etc. and the Performance products for performance and designer jackets, pants, hats, gloves, etc.
For a quick example of how well these products work on something completely random, I sprayed a single coating of each product on a piece of cardboard and let it dry for about 8 hours. The below video shows how well they protect and repel water.
If you can't tell from the video, the sides coated with both the heavy duty and the fabric protector, absorbed no water what so ever. The middle, untreated area, soaked up it's fair share of water. The heavy duty spray seemed to work a little better (just a bit more hydrophobic to one degree or another), but they both worked and worked well.
I've also treated a few items, a couple hats, a pair of gloves, a jacket, and BBQ cover. And everything is working and looking great, no issues, problems or otherwise things to note. They spray seems to do what it's advertised to do, and that's win-win in my book.
For more information about any of these products, you can also check out kiwicampdry.com or feel free to ask away in the comments.