I recently purchased the Viking Tactics (VTAC) padded sling from Bravo Company USA. This was my first purchase from them and everything went very smoothly. I will definitely use them in the future.
You can also get it here.
The sling is packaged in no-frills packaging (a plastic zip-loc bag). Included was the sling and a simple one page set of instructions on how to attach and use the sling.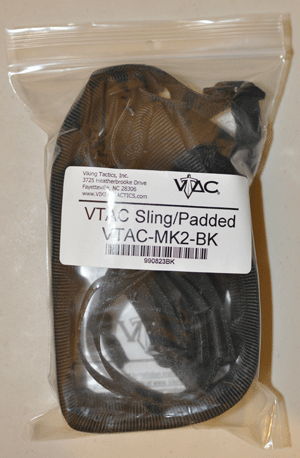 Upon removing the sling from its packaging, the first thing that I noticed is the sling feels to be constructed very well and made of quality materials. The padded portion of the sling is connected to the main strap with multiple levels of stitching and appears to be very durable. The padding feels to be made of a high-quality foam (or foam like material) and is about 1/4″ thick and 2″ wide.
The sling does not come with any swivels, but can be attached to pretty much any swivel that will handle a standard 1″ wide strap. The sling is attached to the swivels by two plastic strap adjusters. Though the adjusters are plastic, they feel to be very dense and strong plastic and it does not appear that they will break under normal usage conditions.
The sling is equipped with a quick release buckle that allows for quick tightening of the sling by simply pulling on the loose end of the sling, and quick extension by simply pulling on the buckle lanyard. The quick release buckle is made out of metal and has a relatively strong return spring so it will stay tight and not slip while moving.
On my first use of the sling, I needed to cinch it up pretty tight as it's designed to fit different size people with different amounts of gear, etc. So using it wearing just a t-shirt, you end up with a pretty long tail out of the quick release. But that is nothing that a quick extra piece of Velcro or a ruber band won't fix.
Specifications
| | |
| --- | --- |
| Model #: | VTAC-MK2-BK |
| Length: | 60in. / 1.52m (Fully Extended) |
| Construction: | Cloth strap with a mix of plastic and metal components |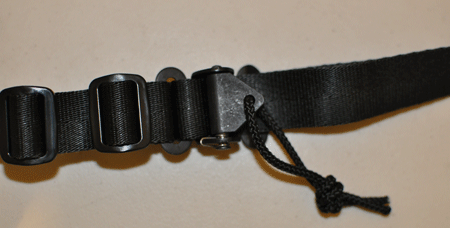 Viking Tactical also has a demonstration video for how to use the sling.
Update: 11/21/2013
I've been using the VTAC sling for quite some time now; and figured it was worth doing an update… The sling has performed great, I've run it through many shooting classes, and drug it around all over the place and had no issues with form or function. I have it setup so I can use my AR-15 with the strong or weak hand, and it all just works. The only gripe that I have is with the sizing (length) of the sling. If I'm not wearing full kit (plate carrier + chest rig + mags + etc.) even with the sling fully cinched up there is still a little too much slack for my taste. I have a relatively small frame, but if you are less than 160lbs and don't plan on wearing full kit, be prepared for this sling to not hold the gun against you very tight. It's generally not a problem, but, it can get annoying if you are trying to do something while the gun is slung over you (it ends up flopping around a lot). So just something to be conscious of.