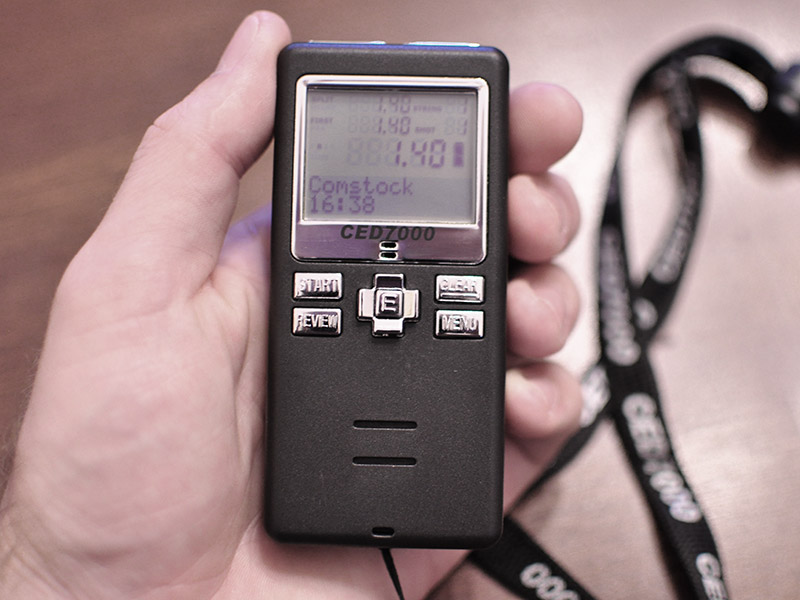 The CED7000 is one of the few shot timers on the market (there isn't a lot of options out there). But it works quite well, and has a lot of options available, including the ability to add external buzzers and various time displays for competitions, etc.
If you've watched any of the Jerry Miculek videos on YouTube, from what I can tell, he uses the CED7000 timer. So unless you are doing some real crazy stuff, it should do everything and more than you could want.
I was turned on to this timer from a training class I attended with SWORD International. After getting a chance to use the timer in a real world training situation, as soon as I got home, I went online and ordered one from Midway USA!
The main thing I really like about using a shot timer is that it adds a sense of urgency, and heightened sense of awareness while training. It's almost hard to describe, but when you hear that buzzer, it gets your heart pumping! Also, it gives a really good way to measure improvements and can help you balance that blend of speed and accuracy, down to the hundredth of a second.
For the actual use of the timer, it's much nicer to have another person be able to start the timer for you, so it's not in the way, and it's a little more of a surprise. But, it comes with a wrist and neck lanyard, they also make belt clips for it, something that I may pick up soon. But for now, the neck lanyard seems to work ok for training on your own. There are multiple modes on the device, the mode that i mainly use is the standard IPSC "Comstock" mode with the buzzer set to "Random". For training on your own, the random mode is the best. It basically boils down to when you hit start, it will randomly buzz anywhere between 2 and 5 seconds. This helps keep you from jumping the start and helps with that adrenaline burst you get.
There are also various other modes of operation, including Par times, silent mode, timer mode, … if you are interested in checking out all of the features, check out the owners manual.
An interesting point I found when going through the manual was that the timer will remember a string of up to 39 shots. So what that means is for any given set of shots (up to 6 sets) will contain 38 shots with splits, then any number over that will be the 39th shot. So if you fire 50 shots, 1-38 will be the first 38 shots, but the 39th shot on the timer will be your 50th shot. I'm not sure when you would want to time something that was more than 39 shots, but just so you know, if you need splits on all of the shots, you'll need a different device. But I think for standard applications, this should work just fine.
To wrap it all up, if you are not using a shot timer during your training, you should be. The CED7000 is a great timer that has more functions than most will ever use and is the perfect addition to any training regimen. Go pick one up or find someone that has one and ask if you can try it out!
Here is a quick snap of me using the timer doing some shooting and reloading drills.