I've been wanting a new optic for one of my AR-15 builds for quite some time now, but really didn't want to pull the trigger, so to speak, on a $500+ optic. I generally fall into the category of the person that really doesn't want their optic to cost a large percentage of the cost of the gun. I've managed to get by for 10+ years with "budget" optics in one form or another, with good success. I've purchased many $200 optics and have never really had any issues. But I use them with a lot of care, and I know, that if I really slammed them around, they wouldn't last.

With all of that being said, a friend recently told me, "Think of your optics as a life long purchase, not something for one specific rifle. A good optic can be moved from weapon to weapon, and fill multiple roles." That little bit of wisdom really hit home for me. I had been looking at optics as a specific item for a specific rifle, not as a sighting system that would work on any of my platforms. All of that is really just me trying to talk myself into spending a lot of money on an optic, but it helps numb the pain a bit.

One of the first primary optics that I decided to get was an EOTech EXPS3-0. This is one of the "newer" offerings by EOTech, and one that I have used before on a friends rifle. So, I know what to expect with them, in one form or another. And from my past experience, I generally like them, and they are durable, real durable. I've seen them thrown, dropped, stepped on, and slammed around in bed of a truck. They just keep working!

If you've never had the opportunity to use or hold an EOTech, especially the EXPS3 models, take the time to go to a dealer and get one in your hands. You will immediately feel how well built they are. But, also because of how well built they are, they have a little heft to them; but you definitely know what you have when you have it in your hand. Everything from the locking mechanism on the picatinny mount to the seal on the battery compartment is well designed and just feels very well made.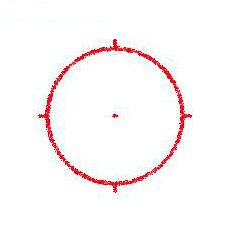 The EXPS3-0 (or Extreme-XPS) has the standard EOTech Circle and Dot reticle (65/1 MOA). There are other models, such as the EXPS3-2 and EXPS3-4 with a circle and two vertical dot layout and a multiple dot reticle with dots for ranging at 0-300m, 400m, 500m and 600m. I chose the EXPS3-0, since it's the model I've used in the past and was most familiar with the reticle. Also I feel that it is the simplest form of the reticle, and is easily adapted for various uses. You can use the 65 MOA ring for various holds; while it may not be as accurate for holds as one of the multi-dot systems, it also adapts well for CQB situations. For CQB, and most training that I attend, a simple reticle suits me best (I've always run simple red dots in the past).

Also to note, as I have previous mentioned in
my review of the Vortex SPARC
, many Red Dot/Holographic reticles look pixelated and blurry to me. This is due to an astigmatism. If you have an astigmatism, you may want to try one of these optics before you buy it, as it may be an issue for you. With the EOTech, the larger ring around the dot can be distracting, depending on how bad of an astigmatism you have. For me, in low light it's a little bit of an issue, but it's not too bad. However, during the day it's not bad at all. But you should definitely check it out before you spend the money; it may be a deal breaker for you.

The EXPS3 uses a standard 123 battery and has a life of about 600 hours at maximum brightness. So under normal circumstances the battery should last much, much, much longer. The battery compartment is also sealed, and tethered. With the improved o-ring sealing, and the sealing of the electronic components the EXPS3 is waterproof to 33 ft. Perfect for anyone that may want to go swimming with their rifle… or if you use your rifle in adverse conditions.

Some other great features about the EOTech design is that all of the controls are easily accessible. One of the big gripes I have with most "budget" optics is that you usually need a wrench of some sort to adjust them, or get to the adjustments. On the EOTech everything is easily accessible; the brightness, night vision mode, and the windage and elevation adjustments are all easily accessed, even with gloves on. Making it a breeze to make adjustments while on the range or as the conditions you are shooting in change. One of the worst feelings is to need to make an adjustment to your optic, but not be able to because you don't have the right tools.

Overall, these are really great optics, and if you don't have an astigmatism, they are even better! You should definitely check them out if you are in the market for a new CQB style optic, or are looking for a good upgrade. And remember, it's an investment; An EOTech will last you a really long time, possibly a life time, and be able to travel with you from weapon system to weapon system.

Here is the full list of specifications for the EXPS3 series:
Operation
Optics: Transmission holography – parallax free
Magnification: 1x
Eye Relief: Unlimited
Length/Width/Height: 3.5″ x 2.4″ x 2.8″ (91.4X 60.9x71mm)
Weight: 11.2 oz (317grams)
Temperature: -40 to 150 F
Waterproof: Submersible to 33 ft depth
Sealing: Fogproof internal optics
Adjustment (per click): 0.5 MOA (1/2″ at 100 yds)
Adjustment Range: +/- 40 MOA travel
Mount: 1″ Weaver or Picatinny (MIL-STD-1913) rail
Return to Zero: Repeatable to 2 MOA after re-mounting
Night Vision Comatibility: 10 brightness setting (generation I-III+)
Heads-Up-Display Window
Optical Surfaces: Anti-glare coating
Window Dimensions: 1.20″ x 0.85″ (30 x 23mm)
Front Window Material: 1/8″ solid glass
Rear Window Material: Shatter resistant laminate (3/16″ thick)
Field of View (100 yds): 30 yds (28m) at a 4″ eye relief
Electrical
Brightness Adjustment Range: 146,000:1 brightest to lowest
Night Vision Brightness Range: 1280:1 with NV switch engaged
Power Source: (1) 123 lithium battery
Battery Life: 600 continuous hours at nominal setting 12
Brightness Settings: 30 settings with scrolling feature (10 settings for NV use)
Auto Battery Check Indicator: Flashing reticle upon start-up
Auto Shut-down: At 8 hrs- programmable to 4 hrs